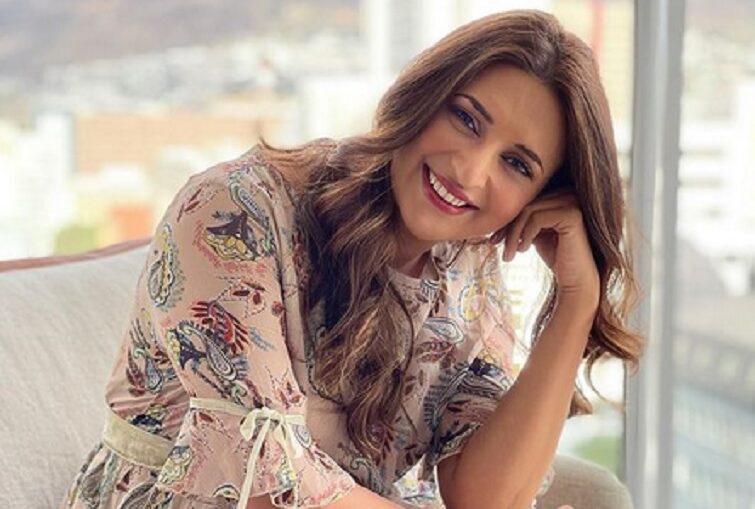 She didn't win the trophy but won hearts… This 'Khiladi' didn't bag the title of a winner but the titles that she earned during her journey of 'Khatron Ke Khiladi', speaks a lot about her daring attitude.
A perfect example of woman power, who turned out to be an inspiration for many who underestimate themselves. She came and she conquered hearts!
Yes, we are talking about Khatron Ke Khiladi's 'Dhaakad Girl' Divyanka Tripathi Dahiya, who is winning appreciation for her fearless attitude in the 11th season of the stunt based reality show. In an exclusive and detailed conversation with ItsEZone.com, Divyanka shared all about her journey with KKK where she introduced us to a totally different side of her and changed everyone's perception towards her.
Excerpts from the interview –
First of all, tell us how was your journey with 'Khatron Ke Khiladi'?
Its been wonderful! I was a bit skeptical because I didn't have any idea about how far can I go but I wanted to experience and learn something new. I kept moving forward with this passion in me without knowing that the result will turn out to be so good in this entire learning process that I am getting so much of love from all over; from fans, followers, media and strangers. Its such a beautiful feeling to receive so much of love from everywhere. I am just thankful to each and everyone for watching me and appreciating my performance. I know many, who have put in a lot of efforts in sending their messages to me that they liked my performance on the show. This makes me extremely happy and I consider all this as my biggest award.
Please share about your entire shooting experience in Capetown.
It was like a risk in itself. I was bit scared to leave my family here in India and go far away from them during the extreme Covid situation and Lockdown. While I was worried about my family, they too were tensed about my safety. Its easy to face a tough phase together with your family around but becomes difficult when you are away from them.
To ensure my safety during shoots, I made sure to always be in Bio Bubble and take care of Sanitization. Must say, it was commendable how the Bio Bubble was maintained and the entire unit strictly followed the Lockdown rules. It was not so easy for any production house to shoot in such conditions. We were the only Indian reality show, shooting that time and we really wanted to stay safe in order to complete our shoots successfully. We were so lucky that we didn't get to face any Covid related problem till the end. On top of that, the final outcome turned out to be so good.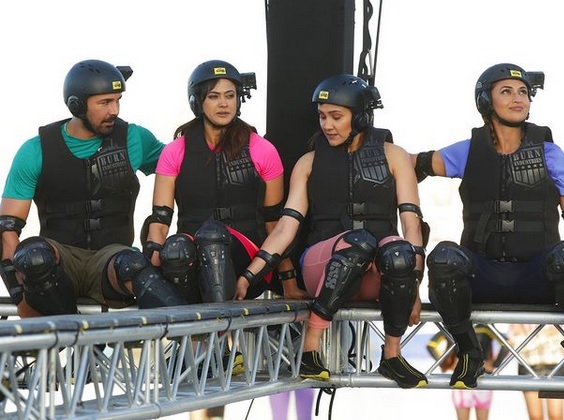 'Khatron Ke Khiladi' is such an enjoyable show that I enjoy watching it myself. The show is an excellent combination of fun, dare and full of exotic locations. We were following a disciplined routine during our shoots in Capetown. So we didn't realize that we are shooting in such beautiful locations. Its only after watching the episodes that we get to realize this. I was just going with the flow in Capetown and I must say that the end result is just beautiful.
What made you say 'Yes' to this show? What was the motivating factor behind it?
I always seek for challenges and want to do something that I have never attempted before. Being an adventurous soul, I was not able to do all this from a long time. So I really wanted to experience all of it. I didn't had any idea about how extreme the situations will be and whether I will be able to do it or not but I wanted to try. I can actually pay money to have such experiences in life and I was getting to experience all kinds of adventures for free with this show. Having felt that its going to be wonderful and a memorable experience of life, I agreed to go ahead with it.
How has the show changed you as a person?
I have come to know myself better as a person and I respect myself more now. Before doing 'Khatron Ke Khiladi', I used to think that may be I am not so fit. I have under assessed myself for so many times but after I pushed all my limits and the kind of output I got, I realized that I am good. I think that everyone needs to realize this that they are beyond what they think of themselves. We underestimate ourselves or over judge situations but I would say that if I being a normal person did all that, then so can anyone.
How does it feels to be called as 'Magar Rani'? Can you share any behind the scene fact before lifting that Crocodile?
I was really worried and I was not sure that I would be able to do it. Vishal (Aditya Singh) and Varun (Sood) were really motivating me. They prepared me well to lift the Crocodile with their encouraging words – 'Dont worry! You will be able to do it'. Aur jab main andar gayi toh mere andar jaise bhoot aa gaya (laughs). The Crocodile was already petrified because of the previous contestants who tried lifting it up. I thought that I have only two options left now – either I become a baby in front of the Crocodile or I should treat it like a baby. So, I picked it up just like baby… just the way a baby cries and throws tantrums but we we still pick them up. The rest is history!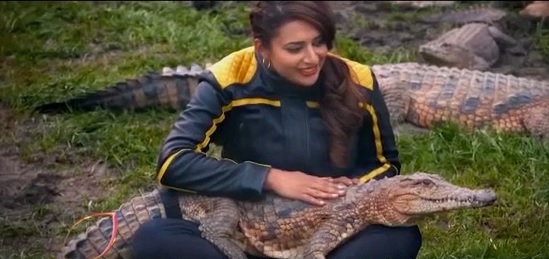 The term 'Magar Rani' was actually coined by Sourabh (Raaj Jain). Once he jokingly said that 'Arre ap toh Magar Rani ho gaye ho'. Everybody liked that term and that's how it became mine forever.
Was there any moment while performing a stunt when you felt like giving up? If yes, then what kept you motivated to keep going?
It has to be the stunt in which we were catapulted on a net. I remember, I could hear that everyone was motivating Sana (Makbul) but I wasn't able to see anything beside me where Sana was performing. So, I felt really bad assuming that I am under performing. I thought that Sana is performing really well. No doubt, she was doing well but I assumed that she has completed the stunt already. So I pushed myself hard to do better, because I got a very strong competition next to me.
The second thought that I had was that I don't want to let Vivek down. He always used to tell me about working on my arm strength and the stunt was all about arm strength. I wanted to come back victorious and share the winning story of his wife with him. I wanted to tell him that I was able to do it successfully even after I was all tired. So, I kept pushing myself somehow. I wanted to give up on it every second while performing the stunt but I kept myself motivating that I have to do it and tell Vivek that I did it.
How has been the reaction of your Parents & Vivek? Any special word of appreciation from them that you would like to share with us?
My entire family is bloating with happiness. Its a matter of pride for my parents and in laws that people have good things to say about their daughter. Its like winning a medal for them. They become really happy to know that their daughter is doing well and that makes me very happy. Vivek had that trust me in me that I will do well and he was very happy with my performance. Vivek was the saddest person on the result announcement day because he really wanted me to lift the trophy. At the same time, he knows that I did everything in my best capacity; He is a proud husband.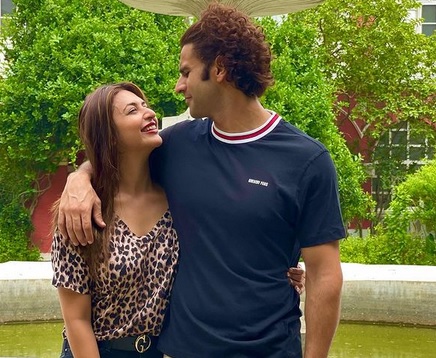 I got to know about a very cute incident recently. There is a small kid in my distant relation, whom I have never met. He was just ecstatic about the fact that Divyanka is his relative. He has been an ardent viewer of 'Khatron Ke Khiladi' and was my fan on the show. The kid was very happy to learn about it. He also told the entire family that he will teach me to swim because he is my fan. So its just so adorable how your family takes pride in your victories or your successful moments.
You earned a lot of praise from Rohit Shetty & also got the title of 'Dhaakad girl' on the show. How do you feel about it?
I am really happy that the channel used this song for me; I am thankful to them because this song is somehow related to Haryana and I am married to a Haryanavi. So I am sure that all the Haryanvis must be very happy to know that their Haryanavi Bahu got the tag of 'Dhaakad'. It feels so good to see those moments while watching the episodes when the song plays for me. I feel so good to know that I have performed well and now for that I have a background music as well.
Even the song 'Aata Maaji Satakli' was so apt for Vishal. I would say that the creatives are aptly called creatives. Vishal was like that only… If he is determined about something, he would go for it at any cost. He had the attitude that 'aata maji satakli toh satakli… main kar ke dikhaunga'. Its very inspiring indeed.
I am so humbled and thankful that I kept getting praises from Rohit Shetty sir when getting a pat on the back from him was a big thing for a performer for performing a stunt well. I feel extremely lucky to receive all the possible compliments from him. Some feelings are just so beautiful that they can't be expressed in words. Sometimes when we respect our seniors, we try to start a conversation with them and want their attention but me being an introvert never did that. I used to get all that without even asking for it, just with my performance; what else I can ask for; its an award in itself.
Don't you have any kind of fear or phobia in life because we didn't see any during your journey with 'Khatron Ke Khiladi'?
I do have some tiny ones but I have never let my fear grow bigger in my head. We all are blessed with a similar kind of brain and all that matters is that ap koi bhi cheez ko kitna bada bana lete ho. I still call Vivek if I spot any Cockroach in my house but when the Cockroaches were put upon me during the stunt then I stayed calm because it was a part of my job. I didn't want to make it too big in my head.
Similarly, I had a fear of going in water especially if its deeper than my height. I knew that I wouldn't be able to go in but to tackle it, I took two days crash training in the swimming pool of my dad's friend in Bhopal with the help of a trainer. I learnt it two days for two hours each. In these four hours in total, I learnt about strokes, how to go in deep, holding my breath and how to pick a coin under water. I practiced all that thinking what if I will get to do a stunt like this. Unfortunately, I didn't get to do any stunt like that on the show but I was actually ready for it. Initially, I had a phobia of drowning and I wasn't able to go in water but then I overcame it in just a matter of four hours.
I had such a short time in hand. If I wouldn't have prepared myself and if I had got do any stunt like that then I would have embarrassed myself. It was not about anyone else; It was all about myself. I didn't want to under perform. That's why I worked towards getting rid of these fears.
A lot of fans have called the show & the channel biased after you didn't win. Whats your take on it? How did you feel when you weren't announced as the winner?
Honestly, I did feel bad for few minutes when I was not declared as a winner. My parents kept asking me if I am feeling bad about it but I said 'No, shayad agar main jeet jaati toh pata nahi itna pyaar milta ya nahi milta. par nahi jeet ke bhi jo pyaar mujhe mil raha hai, it doesn't make me feel any lesser'.
Coming to the part that fans called the show biased, I would say that fans love their favorites so passionately. They cheer for a person or a team and when the team or the person doesn't win then it breaks their heart. So their reaction is justified there. I would say that now its time that we move on in life. Even my followers, they should do that because they should know that there is so much more to life. My parents have inculcated this in me since childhood that if we don't get anything as per our wish today then it only means that God has planned something much better than that.
I was missing my Mom Dad & Vivek on the day of result announcement because they would have partied even after my loosing. Vivek had given a duty to my neighbors that Divyanka should get a party that night no matter what the result going to come out whether she wins or not. Vivek was not in Mumbai so my neighbors arranged a very sweet surprise for me post finale and somehow Vivek was silently involved it that.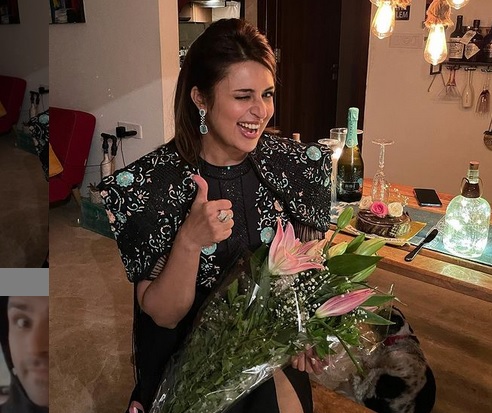 How to be like you? Fit & Fearless?
For fitness, one should not think about being thin. One should keep working out and try different kinds of workout. If you will stick to only one kind of workout then you won't be able to achieve overall fitness. You should do a variety of workout that you even like doing.
Now, when it comes to being fearless, I think it all depends upon the upbringing of the child since childhood. If Parents will create fear in the mind of their child since their childhood then that fear will stick to their mind forever. We often scare our children with different things like darkness, Lizards and so on. Children learn a lot about behaviors through their parents. If Parents themselves have any kind of fear then their fear makes a big space in the minds of children.
I remember, whenever I used to get hurt during my childhood days, my parents never used to make it a big issue. There have been times when I went ahead for my physical activities with stitches or after doing first aids on getting hurt just because my parents never made a big issue out of it. Instead, they used to convince me that its normal and you will handle it and so did I. This stays with me till date. A little safety and precaution is important but one should not create phobia or an extreme fear out of it. To the grown ups, who want to do something, I would like to say to them that its all your conditioning since childhood because of which you react in a certain manner. May be you can face it and tackle it if you really want to.
Lastly, a message to all those who underestimate women?
Just watch Khatron Ke Khiladi 11 and you will get to know there is nothing that women can't do.