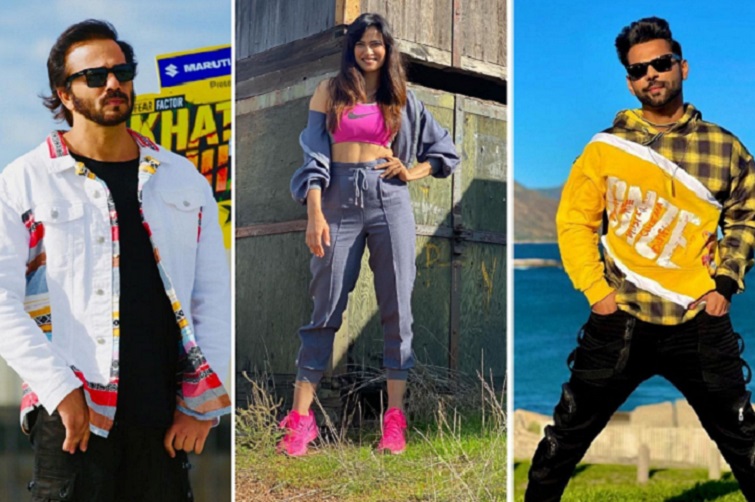 KKK 11: Rohit Shetty scolds Rahul Vaidya and Shweta Tiwari; Rahul Vaidya gets Eliminated
Popular reality show Khatron Ke Khiladi 11 has kick started its Finale round with its six Finalists – Vishal Aditya Singh, Divyanka Tripathi Dahiya, Shweta Tiwari, Varun Sood, Rahul Vaidya and Arjun Bijlani.
The contestants gave a tough competition to each other in the daring stunts given to them in the Saturday's Finale episode.
Rahul Vaidya got eliminated yesterday after losing the elimination stunt against Shweta Tiwari. Shweta made it to the top five Finalists of the show.
Rahul and Shweta both had reached in the elimination stunt in Saturday's episode after they had aborted their main stunts. Rahul couldn't attempt his stunt because of his back issue. Shweta aborted the stunt midway as she couldn't bear electric shocks in the stunt anymore.
Host Rohit Shetty, who always encourage the contestants to attempt the stunts and overcome their fear, got too disappointed with Rahul and Shweta after they failed to complete their stunt and aborted it.
Expressing his disappointment with Rahul and Shweta, Rohit told them that he didn't like the attitude of Rahul and Shweta when they aborted the stunts. He said that Sourabh (Sourabh Raaj Jain) cried when he had to leave; It was just his bad luck! Rahul and Shweta didn't had any guilt for aborting the stunts nor they were apologetic about it. Rohit went on to add that the show is losing its seriousness in the Finale; Rahul was laughing when Shweta was about to abort the stunt.
He also added that for the first time in Khatron Ke Khiladi, the contestants are aborting the stunts in the Finale. If this had been the Finale stunt for winning the trophy, both of them would have done it; they have potential.
Rahul and Shweta both apologized to Rohit Shetty and went on to attempt the elimination stunt. Both of them performed the Plane stunt to the best of their ability.
Keep reading ItsEZone.com for more updates.