Star Plus' Mahabharat is winning hearts of the masses all over again with its re-run.
The show is now gearing up for its ultimate finale with the great war of Kurukshetra and Arav Chowdharry has some insights to share on his role.
Arav got acclaimed for his versatility as an actor when he played a young 25 years old Devrat to 200 years old Bhishma. He not only changed his body in every stage of the age but also changed his dialogue delivery and voice. His efforts were hugely appreciated and loved by his fans and viewers.
With the upcoming track of the show, he shares details from the final fight sequence where Bhishma Pitamah meets his end.
Reminiscing the shoot day of the Kurukshetra War sequence, Arav shares, "We were hit by a sandstorm during the shoot. It was extremely difficult for us to see and breathe. Keeping in mind the safety of entire unit, the production house stopped filming for few hours. Later, the unit decided to shoot under supervision considering that we didn't have bank of episodes. All the dust that you see on our faces in the sequence is real. I have learned to be humble, patient and never give up from the character of Bhishma."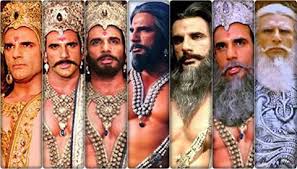 "I am thankful to the makers, Star Plus, Team of Writers under the supervision of Mr. Salim Khan to have such a well-written role. It was the most memorable experience for me. Be it the background score of Bhishma- Kshatriya Stayawatdi to the costume, dialogues, makeup and Jewelry, everything was the best," he added.
We would not want to miss this particular episode of the Kurukshetra War with a powerful character like Bhishma Pitamah meeting his end.
Tune in to Star Plus on 12th June at 8:30 PM to witness the death of a strong warrior.