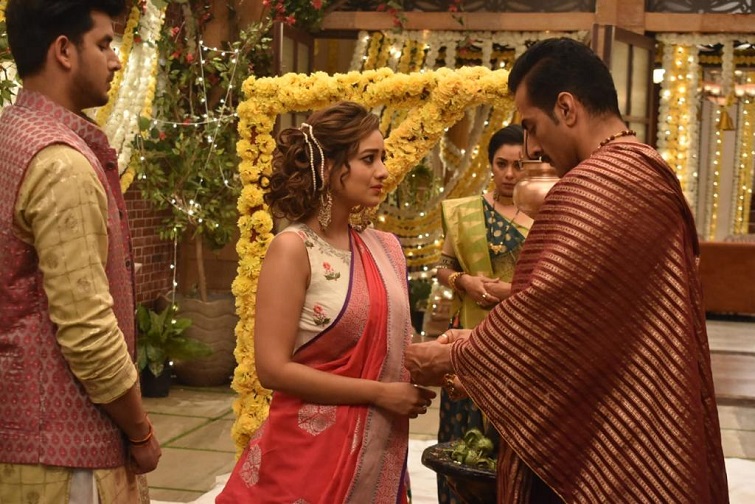 Vanraj Shah (Sudhanshu Pandey) of Rajan Shahi's 'Anupamaa' is stuck between family and his lady love Kavya (Madalsa Sharma). While he tries to keep both happy but sometimes he fails miserably.
Recently we saw that after Vanraj had made a big scene of Samar (Paras Kalnawat) and Nandini's (Anagha Bhosale) relationship, he later informed Baa (Alpana Buch) about it. Baa, who has always been upfront with her decisions, said that she will not accept Nandini in their house but Kavya said that she doesn't have a problem with it. In fact, she said she is happy about it. She also tells Nandini that she is with her and Samar in this.
Later we see that Pakhi (Muskan Bamne) talks to everyone at home via video call and when Kavya comes back home, Samar pushes her away to avoid her getting in the frame. This makes Vanraj upset who yells "How dare you?"
In the upcoming episode, we will see that Baa finds Vanraj and Kavya hugging each other and tells them that she will not accept all these things happening in their house. An upset Vanraj says that once the MahaShivratri puja is over he will leave the house with Kavya. Kavya is heard saying that she will not let that happen.
What is going on in Kavya's mind? How will Anupamaa (Rupali Ganguly) save her family from Kavya this time? Will Kavya create a scene at the MahaShivratri puja? To know what happens next keep watching 'Anupamaa'. 
Produced by Rajan Shahi and his mother Deepa Shahi under their banner Shahi Productions Pvt Ltd, the show airs on Star Plus.