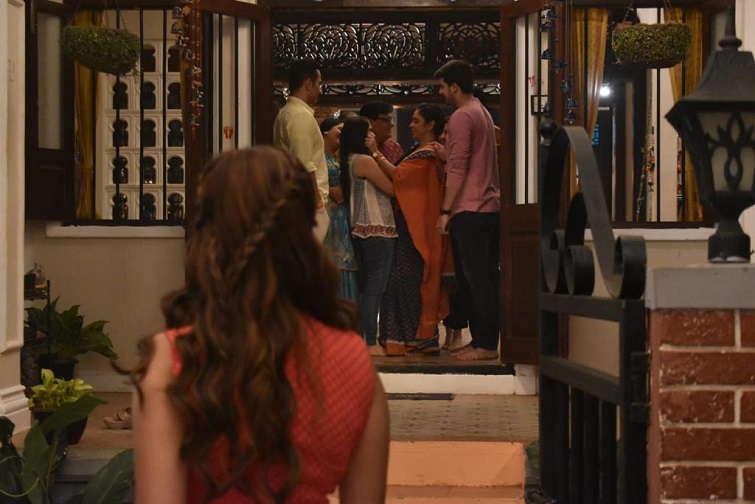 Anupamaa Upcoming: Pakhi gets anxiety attack after seeing Kavya with Vanraj
Rajan Shahi's 'Anupamaa' keeps the audience engaged not just with its relatable story line but also with the various twists and turns that the makers introduce time and again. Recently we saw that Vanraj (Sudhanshu Pandey) told everyone that Kavya (Madalsa Sharma) will live in the same house with them, but he didn't realize the consequences once Pakhi (Muskan Bamne) comes back home.
Pakhi had planned to surprise her parents, and she came early from her school trip. Anupamaa (Rupali Ganguly) soon realizes that she will not be able to bear Kavya's presence in the house. When Pakhi goes to meet her father, she finds Kavya putting her and Vanraj's pic in a frame and then them holding hands. Seeing this Pakhi loudly cries and throws away the frame, when Anupamaa and Vanraj try to console her she locks them inside the room.
Anupamaa asks Kavya what was she doing in their bedroom because Baa (Alpana Buch) had clearly asked her to live in the guestroom. Meanwhile Pakhi is uncontrollable and Samar (Paras Kalnawat) and Paritosh (Aashish Mehrotra) try to calm her down. Kinjal (Nidhi Shah) lets Anupamaa and Vanraj out, but Pakhi is not ready to listen to them. Samar then tries to calm her down and tells her that he will also go with her and takes her to Nandini's (Anagha Bhosale) house to calm her down. He tries to tell her the things that happened in her absence, but she refuses to hear anything.
Samar informs Vanraj and Anupamaa about the same, and though Anupamaa immediately leaves to talk to her, Vanraj doesn't because he had insulted Nandini a few days back and had said that he doesn't like her. Anupamaa tells Pakhi that she should handle this situation maturely but Pakhi ignores it.
In the upcoming episode we will see that Vanraj keeps his ego aside and comes to talk to Pakhi, but she requests them to ask Kavya to leave. Though we see Kavya moving out of the house with her bag, how did Vanraj convince her? To know what happens next keep watching 'Anupamaa'.
Produced by Rajan Shahi and his mother Deepa Shahi under their banner Shahi Productions Pvt Ltd, the show airs on Star Plus.