One needs to maintain a good balance between everything in life: Rahul Sharma
TV actor Rahul Sharma, who is currently seen in Dangal TV's daily soap Pyaar Ki Luka Chuppi is busy exploring his cooking skills these days during the quarantine period. 

In a candid conversation with ItsEZone.com, Rahul revealed more about how he is keeping himself busy at home these days. He said, "I am busy doing normal household chores like cooking and cleaning. Along with that, I am also focusing towards Yoga and meditation. When asked Rahul if he is taking up any hobby to keep himself occupied, he replied, "Cooking is my new hobby. I am trying out different dishes and learning to cook something new everyday."
"I am also giving time to myself spiritually. Its a difficult time and when you are spiritually strong then you easily come out of it even if you are living alone in such kind of situations. You need to maintain a balance between you and your mind in such situations to make things easier for you," he added.
The actor loves his work and he thoroughly enjoys playing Sarthak in his current daily show Pyaar Ki Luka Chuppi. Talking about his experience about the same, he told us, "First of all the story of the show is very nice. Its been a good experience so far with the show as well as the channel."

"The show depicts the story of Srishti and Sarthak who were friends since childhood and later fell in love with each other. They finally get married to each other after crossing all the hurdles coming their way. Sarthak, who is an ambitious guy, has struggled a lot in his life to reach where he is today. He reaches new heights of success in his career after marriage and that makes him shift his entire focus towards his professional life, leaving behind all his personal relationships.

This further create differences between Sarthak and Srishti and now they are on a verge of getting separated. Even after Srishti pleads Sarthak for not taking such a decision, the latter fails to get convinced. This is what happening these days around many of us where someone gets so practical in life that he/she starts leaving behind all the relationships that matter the most," elaborated Rahul.
On this note, we asked the actor whether he would like to give any advice to Sarthak as Rahul to which he answered, "First of all I would like to slap Sarthak for the way he is behaving. If you don't know how to maintain a good balance between two things then it would be difficult for you to move further. Only your near and dear ones will be able to help you with their support and the rest will only push you deeper to make things tougher for you. I would like to tell him that he should learn to maintain a balance between his 'naukri' and 'chokhri' to lead a good life. He should learn to respect his family and his wife. He should support and motivate his wife to do well in life. Problems are everywhere but if you have any difference in ideology then try to solve it by talking it out else you wont be able to sort it."
The actor has got to learn some good qualities from Sarthak while he essays the role. Talking about the same, Rahul revealed, "You need to be passionate and hardworking about your field and you need to have a target in life for which you can be passionate and focused towards it. Keep working towards your goal till the time you wont achieve it. You need to maintain a good balance between everything in order to move ahead of Sarthak in life."
Rahul feels blessed to have a good co-star like Aparna (Dixit) and we asked him to tell us more about his off-screen bond with her. He said, "I truly enjoy shooting with her because she is a very good actor and a nice human being. She is a natural actor and we don't realize how time flies while shooting with her and that's the best part about it. Aparna and I became friends quickly and that came out really well on-screen. We bonded over food. She is a simple girl with positive vibes. The kind of energy she has, makes it truly fun to be with her on sets. I feel that half of your work is already done when you have a good co-star and Aparna has all those qualities."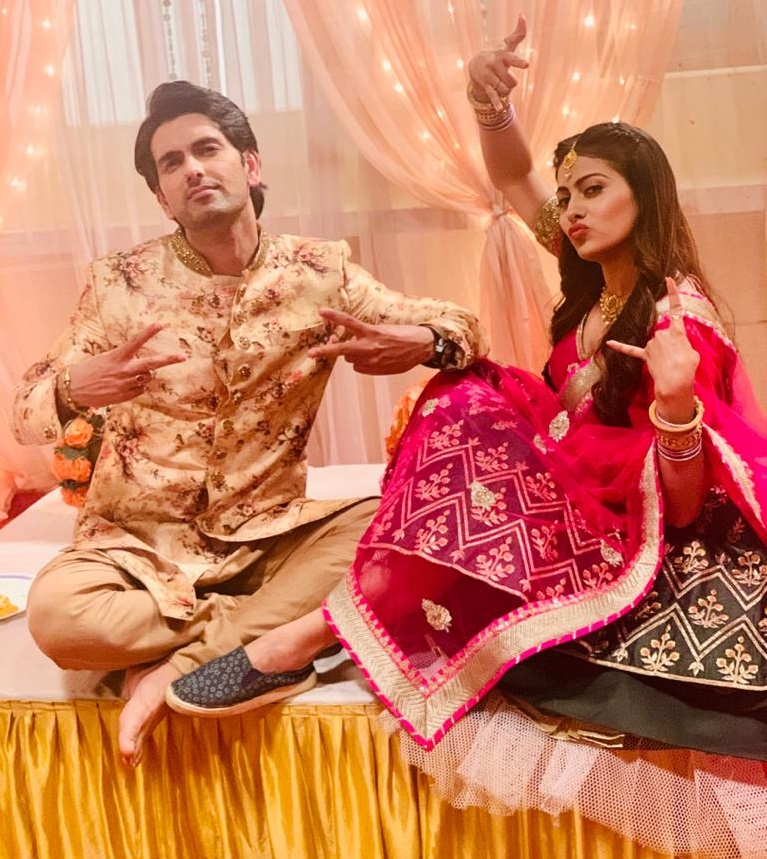 We also got to know about Rahul's views on the rise of Dangal TV as a  popular entertainment channel and actors' inclination towards it. He told us, "The channel is doing good and its a good platform if people connect. Their target audience if different from other channels. Its a free to air channel so those who are not capable of paying for other channels can enjoy some good entertainment programs that the channel is coming up with these days. The best part about the channel is that if you are not giving them good entertaining content then they quickly pull it off-air. The channel allows every story to progress in the right direction instead of deviating it and they present everything well. The channel is growing and in the coming time, it will give a tough competition to other channels."
Keep up the good work, Rahul.