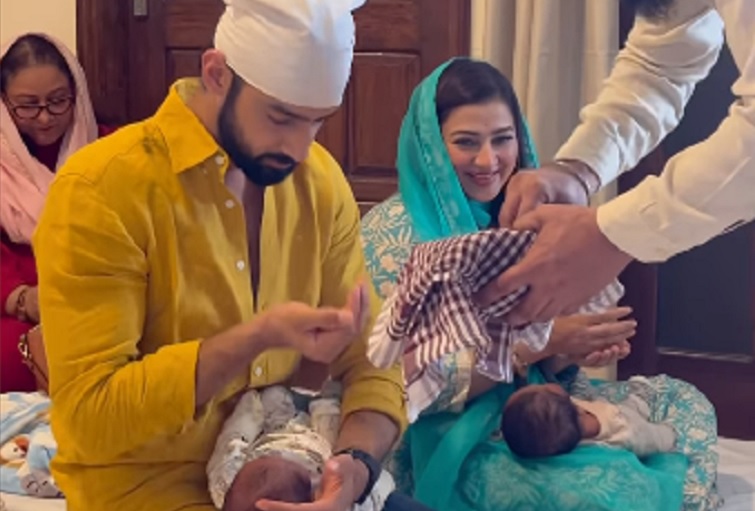 Karan Vohra reveal the names of his twin boys
Popular television actor Karan Vohra, known for his role in the popular TV series Imlie, has been overjoyed with the arrival of his twin boys. Karan and his wife Bella Vohra welcomed the newest additions to their family on June 16th. The actor took to social media to share heartwarming glimpses from the naming ceremony of his newborns.
In a mini vlog shared on Instagram, Karan was seen traveling to his hometown, where his family gathered to offer prayers and blessings for the newborns. The adorable video also captured the heartwarming sight of Karan feeding prasad (a religious offering) to his pet dogs, symbolizing their inclusion in the family celebration.
Karan revealed the names of his baby boys in the caption of the post. He wrote – '🌼VOHRA BOYS🌼
🤎ARYAVEER & AKSHVEER 🤎'
Fans and well-wishers flooded the comments section with an outpouring of love, blessings and good wishes for the happy family. Karan's fans expressed their excitement and joy for the actor and showered immense love on the newborns. 'Love & Blessings ❤😘 #Aryaveer #Akshveer' – a fan wrote. Another one commented – 'Loads of love and blessings to little munchkins Aryaveer & Akshveer ❤️ congratulations @itskaranvohra & to the Vohra family 🤗'
View this post on Instagram
Heartfelt congratulations and blessings continue to pour in for the Vohra boys as they embark on this beautiful journey of life together.