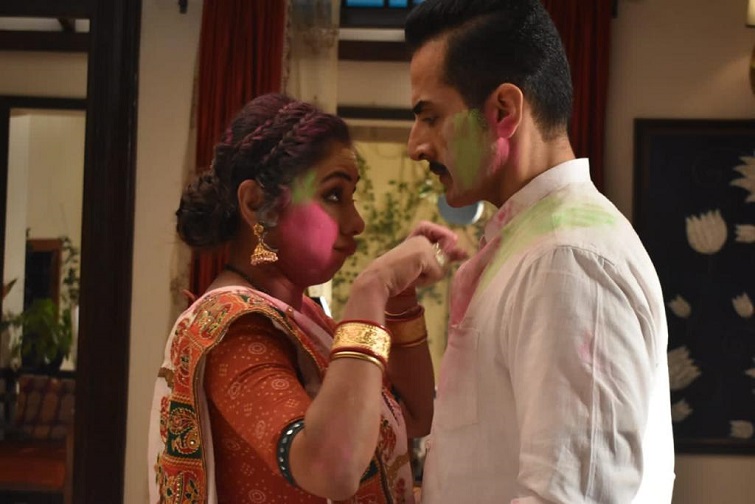 Anupamaa Upcoming: Anupamaa confesses her love for Vanraj
Rajan Shahi's 'Anupamaa' on Star Plus is at a very interesting stage right now. With the Holi festival around, everyone wanted Anupamaa (Rupali Ganguly) to enjoy it to her fullest since she has not been able to play colors in the last 25 years. Vanraj (Sudhanshu Pandey) didn't like playing Holi so Anupamaa also restricted herself and never became a part of Holi celebration.
She was enjoying this time but accidentally had a glass of Bhaang. We got to see a whole new side of Anupamaa afterwards. She climbs up to Vanraj's room and dances to 'Hungama ho gaya' and even puts color on him. Kavya (Madalsa Sharma) sees it all and leaves from there. Meanwhile, everyone is looking for Anupamaa and she informs them that she is in Vanraj's room.
Once they reach, they find Anupamaa in an intoxicated state. When Baa (Alpana Buch) tries to calm her down, she tells her how she always wanted her to become her mother and not behave like a mother-in-law. She thanks Babuji (Arvind Vaidya) for always being by her side. She also tells them that Samar (Paras Kalnawat) is not her favorite but she is Samar's and he understands her very well.
Kavya is still angry at what she saw. When Nandini (Anagha Bhosale) questions her on why did she go in the Shah house, she slaps her. She is later seen saying that as soon as Vanraj's divorce is finalized, she will get married to him.
In the upcoming episode, we will see that Anupamaa confesses her love for Vanraj. Everyone including Vanraj is left teary eyed with Anupamaa's heartfelt confessions. Will this change things between her and Vanraj?
Produced by Rajan Shahi and his mother Deepa Shahi under their banner Shahi Productions Pvt Ltd, the show airs on Star Plus.
Keep reading this space for more updates on your favorite shows.