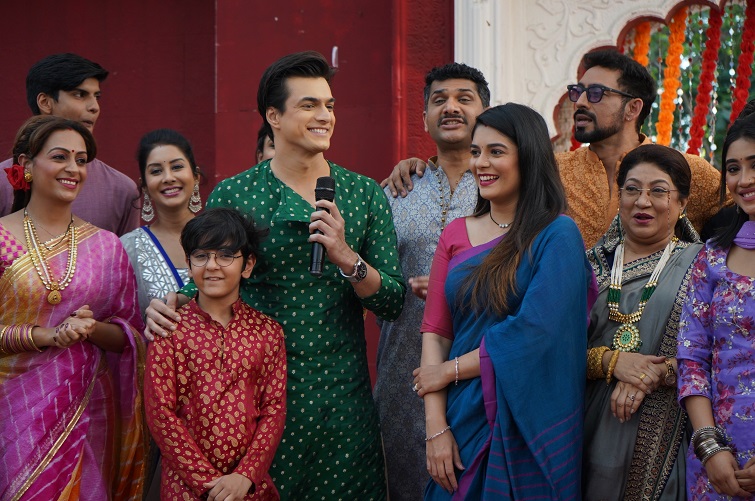 'Yeh Rishta Kya Kehlata Hai' family welcomes Pooja Gor of 'Mann Ki Awaaz Pratigya 2'
Rajan Shahi's 'Mann Ki Awaaz Pratigya 2' where he has collaborated with Pearl Grey as the showrunner, writer, and creative producer, will go on-air on March 15.
The show is being produced under Shahi's Director's Kut Productions and the lead actress Pooja Gor shot with the cast of their other show 'Yeh Rishta Kya Kehlata Hai' on Saturday.
It was a sequence shot between Sirat, the lead of YRKHH which is being played by Shivangi Joshi and Pooja Gor, who will reprise her role as Pratigya in season 2 and will be seen in a public prosecutor's role. This sequence will bring an interesting twist in Sirat's life and the makers are keeping it under wraps.
Post the shoot, team YRKKH welcomed Pooja, who represented MKAP2, in the DKP family with a bouquet and wished her all the very best for the launch of her show. From Shivangi to Mohsin Khan, Swati Chitnis, Shilpa Raizada, Simran Khanna, Hrishikesh Pandey, Priyamvada Kant, Ali Hassan, Niyati Joshi and Ashita Dhawan posed along with Pooja.
While YRKKH airs on Star Plus from Monday to Saturday at 9 PM, MKAP2 will air on Star Bharat from Monday to Friday at 8:30 PM. MKAP2 also features Arhaan Behll, Anupam Shyam, Chetan Hansraj, Asmita Sharma, Ashish Kapoor, Parvati Sehgal to name a few.