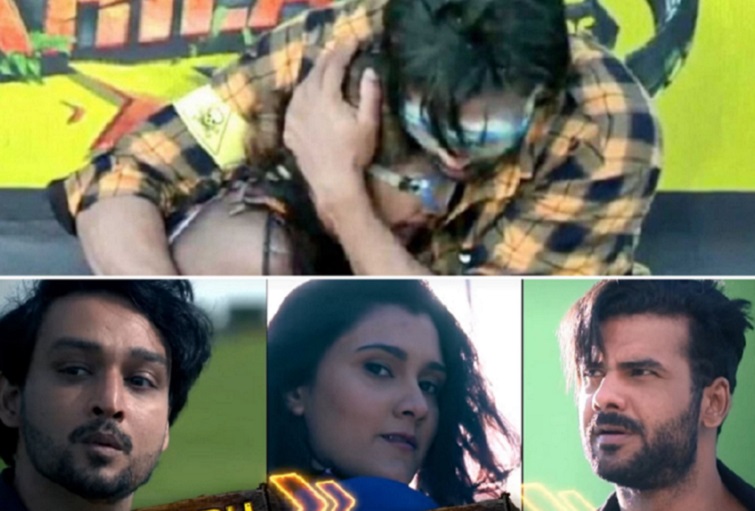 Khatron Ke Khiladi: Nikki Tamboli and Vishal Aditya Singh eliminated; Vishal to return with Sourabh Raaj Jain and Aastha Gill
The contestants of Colors' popular stunt based reality show 'Khatron Ke Khiladi 11' again attempted some daring stunts as usual. Being the 'Partners Week', this time the episodes were also packed with some heated arguments and some great compatibility among the contestants.
The contestants were divided into pairs to perform the stunts.
Everyone's heart skipped a beat when host Rohit Shetty announced that this week they are going to have double elimination. It means that the paired team will get eliminated if they will fail to perform the stunt. It required equal efforts by both the contestants to win a stunt since they were a team.
After performing all the stunts, it was Sana Makbul-Anushka Sen and Vishal Aditya Singh-Nikki Tamboli, who performed the pre-elimination stunt. Sana and Anushka managed to complete half of the stunt given to them while Vishal and Nikki couldn't complete the stunt. Unfortunately, Nikki Tamboli refused to move forward on the rope bridge out of fear. Hence, the duo lost the competition against Sana and Anushka.
Eventually, Vishal-Nikki were asked to perform the elimination stunt against Rahul Vaidya-Abhinav Shukla.
The stunt was well performed by both the teams but Rahul and Abhinav eventually won it by ten seconds. Hence, Nikki and Vishal had to bid adieu to the show.
The contestants expressed their disappointment over Vishal's elimination. They even targeted Nikki and had a heated argument with her when she couldn't perform in the pre-elimination stunt with Vishal. Vishal's good friends Varun Sood and Shweta Tiwari were in tears to see him go.
Along with the contestants, the fans too were disappointed with Vishal's elimination from the show this way. They even raised their voice to bring Vishal back on the show calling his elimination 'Unfair.'
When everyone was sad with Vishal's elimination from the show, their sadness just turned into smiles when they saw the promo for next week.
The promo talks about the re-entry of Vishal Aditya Singh, Sourabh Raaj Jain and Aastha Gill as wild card entrants. Host Rohit Shetty mentions about the reason behind the trio's re-entry in the promo. He says that they are being given another chance because they all got eliminated due to someone else.
Fans are too excited to have their favorite strong contenders back on the show and so are we!
Who are you rooting for among the wild card entrants? Let us know in the comment section below.