Dipika Kakar and Shoaib Ibrahim Welcome Baby Boy
In a moment of pure bliss, celebrity couple Dipika Kakar and Shoaib Ibrahim have been blessed with the arrival of their adorable baby boy. The news was shared by Shoaib on his Instagram account, where he wrote, 'Alhamdullilah today, 21st June 2023, early morning we are blessed with a baby boy. It's a premature delivery, nothing much to worry. Keep us in your prayers.'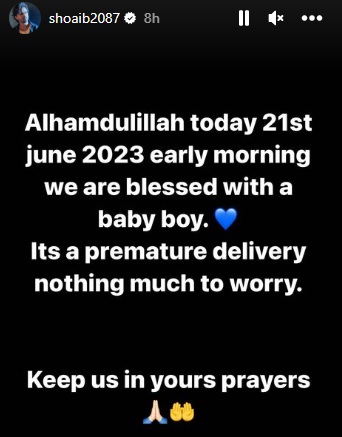 The timing couldn't be more perfect, as just yesterday, on June 20th, Shoaib celebrated his birthday and today, he receives the most precious gift of becoming a father. The couple had faced numerous speculations surrounding Dipika's delivery, but they put all the rumors to rest during one of their vlogs, confirming that the baby was actually due in July.
Dipika and Shoaib's love story began on the sets of the popular TV show 'Sasural Simar Ka,' where their on-screen chemistry translated into a real-life romance. The couple sealed their love with marriage on 22nd February 2018 and their bond has only grown stronger since then.
The arrival of their baby boy has filled their lives with immeasurable joy and brought an outpouring of love and congratulations from their fans, friends and well-wishers. As Dipika and Shoaib embrace the beautiful journey of parenthood, their hearts are filled with gratitude and excitement for the new chapter that awaits them.
We extend our warmest congratulations to Dipika Kakar and Shoaib Ibrahim on the arrival of their precious baby boy. May their little bundle of joy bring them endless happiness and blessings in the days to come.