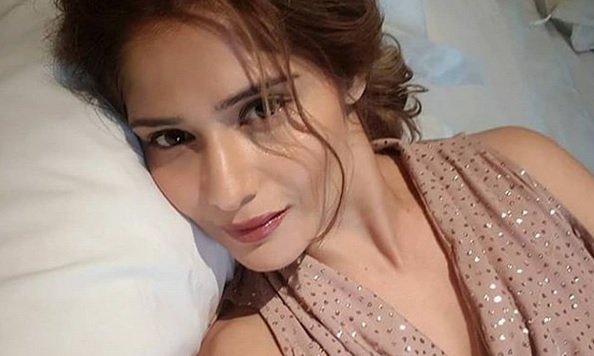 Not the trophy but Bigg Boss 13 contestant Aarti Singh surely won a Million hearts with her stint in the popular reality show.
The love of her fans has now landed Aarti into the Million club on Instagram to which she is extremely grateful to them. To express gratitude towards her fans, Aarti did something special for them.
Wondering what was it?
The lovely actress did a solo Live session on Instagram for the first time ever. She interacted with her fans and answered their questions too. Aarti, calls herself too shy to do Live sessions on social media. She had promised her fans about doing a Live session whenever she will enter the Million club and she kept her promise well.
Thanking her 'Aarti Ki Army' Aarti revealed that there was a time when her career wasn't going good. Achieving the milestone of 1 Million is a very big thing for her and she believes in celebrating little joys of life.
She went on to congratulate Asim Riaz for buying his dream car and even wished Paras Chhabra on his Birthday. Talking about her bond with Rashami Desai, she said that they are good friends despite all the problems that they had in the house. Rashami has always been there for her when needed.
Talking about her journey in the Bigg Boss house, Aarti added that she was very scared and nervous initially. She couldn't understand what she needs to do in the house in the first month. Later, she realized the importance of having patience in the house and giving it back when needed.
After answering a few fan questions, Aarti talked about the tough time the entire world is going through right now. She said that there are many people who are not feeling okay but this shall too pass. Its all okay if you and your parents are safe and you have food on your table.
On this note, Aarti has promised her fans that she will do Live sessions more often from now on.
Many congratulations for 1 Million, Aarti.