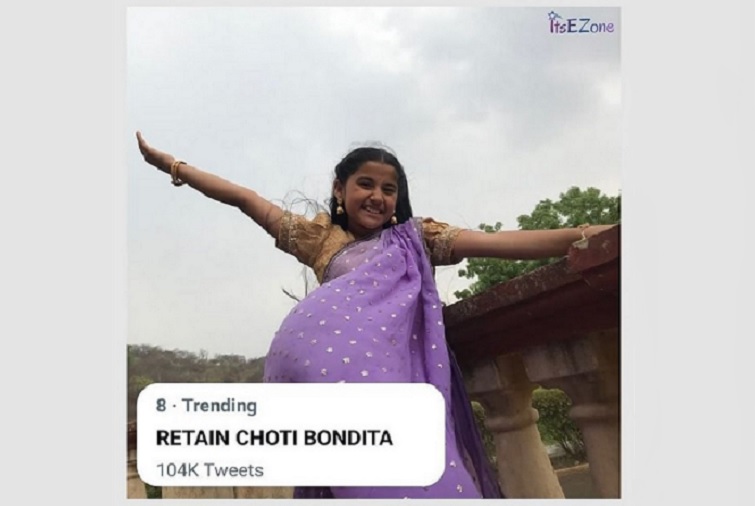 Child artist Aurra Bhatnagar Badoni has made a special place in the heart of the audience with her cuteness and perfection in acting at such a young age.
The little one, who plays the role of Bondita in Colors TV's Barrister Babu (Shashi Sumeet Productions) is loved by all. The daily soap is heading for a big leap in its story line and Guddan Tumse Na Ho Payega fame Kanika Mann has been finalized to play the role of grown up Bondita.
Fans of Barrister Babu got disheartened after this news made headlines in the media and they started trying their level best to convince the makers for retaining Aurra as Bondita on the show.
The fans took to Twitter to let their voices reach to the makers and the channel. The admirers of Aurra aka Bondita poured in Lakhs of tweets for the trend 'Retain Choti Bondita' on Twitter which is their demand.
Take a look at some of their tweets –
Guys week end tak we cant losse hope hum Sam dam dandy bhed sab karenge
RETAIN CHOTI BONDITA #BarristerBabu pic.twitter.com/81RD1HvsD2

— barristerbabu forever (@AsMishti) June 3, 2021
They have exact same expression..Our cuties.. They are forever as our Anidita..
No one can take that place… Please don't break their beautiful bond and don't take our precious people from us.
RETAIN CHOTI BONDITA #retainchotibondita #barristerbabu @mangeshk30 pic.twitter.com/DnvAnKWvUo

— Kajal (@KajalKAR3) June 2, 2021
Me waiting for makers to confirm there is no leap.

RETAIN CHOTI BONDITA pic.twitter.com/zGveJCyOtv

— Avani S (@AvaniS12) June 3, 2021
In spite of having such age difference they have created magic. The soul of these characters are built by them. And by separating them the show will lose it's charm. They are just so adorable. One is incomplete without another.

RETAIN CHOTI BONDITA pic.twitter.com/1OKAcAKsNt

— FS (@FS98467334) June 3, 2021
This is us when we hear any news of leap….

RETAIN CHOTI BONDITA pic.twitter.com/YZ4FyMHALd

— pravisht_my.idol (@Pravishts_Shibs) June 2, 2021
We want aurra as bondita…. Don't want badi bondita…. Don't want any love story… Don't want any romantic story or romance sequence

RETAIN CHOTI BONDITA pic.twitter.com/bkV2A2MSj7

— Soma (@Soma43860753) June 3, 2021
Do you all think that the makers should take a note of this and stop the upcoming leap in the story line? Drop your thoughts in the comment section below.